Managing the internal laundry service for hotels can make all the difference, in terms of costs and efficiency. Improving the performance of your hotel's internal laundry or creating one is the best choice to ensure that the result is always optimal. Laundry care requires the utmost attention to offer guests a quality service. On the other hand, cleanliness and hygiene are fundamental parameters of a hotel's judgement.
Indemac is the right choice for your hotel. Thanks to our many years of experience in the sector, we can offer high-quality services and customised solutions to optimise the washing, ironing and folding processes. This is why, with great pride, our company has been chosen for many realities in Italy and abroad, improving production efficiency, resource management, optimising consumption and minimising costs.
From design and construction to distribution and after-sales assistance, commitment and professionalism are always in the first place.
Let's find out how to improve or renew your hotel laundry and how to improve its functionality!
Indemac's proposals for integrating laundry into hotels
The inclusion of professional laundry in the hotel guarantees impeccable service and allows you to carry out a personal check.
It is an investment that will soon be repaid: in the hotel the amount of laundry to be washed is considerable, so it is good to plan efficiency in the best possible way, reducing costs and times.
In Indemac we always find innovative solutions for our customers, we offer unique machines that combine aesthetics and advanced technology, reducing consumption and increasing energy efficiency.
Our selection of machinery designed specifically for hotels includes a series of proposals that can be customised according to the size of the plant and the average requirements of the items to be processed in the hotel.
ILC, all in one, compact in 18 square metres
ILC is an all-in-one ironing and folding machine and is the leading result of our technological research. In just 18 square metres it allows to insert, iron, fold and stack flat linen even of big dimensions and it can be easily managed by a single operator. It is specially designed to be easy to use and to preserve the fabrics from mechanical stress, obtaining impeccable ironing.
The machines of the ILC series are available in different sizes of roller diameter – from 500 mm up to 1000 mm – and are a valid and innovative alternative to the more classic industrial line composed of several machines.
Essential machinery for hotel laundry
The ideal flow within a hotel laundry involves the minimum use of a high-speed industrial washing machine, a dryer for a quick drying cycle to reduce the residual humidity, an ironer capable of drying wet flat linen, ironing and folding it, and finally machinery and accessories designed specifically to meet all the needs of a hotel, especially for medium to large hotels.
FSI is a fast and versatile folding machine for smaller items: napkins and pillowcases. These are all items that are used in large quantities within a hotel and require the utmost accuracy in the final result. FSI can recognize the items to be folded and can be placed downstream of an ironer for semi-automatic operation. The FSIS version is specifically designed for napkin folding.
The FTI is designed and manufactured specifically for terry items: a towel-folder machine that can fold items of different sizes, from bidet towels to bath towels, using a system of suitably channelled air jets.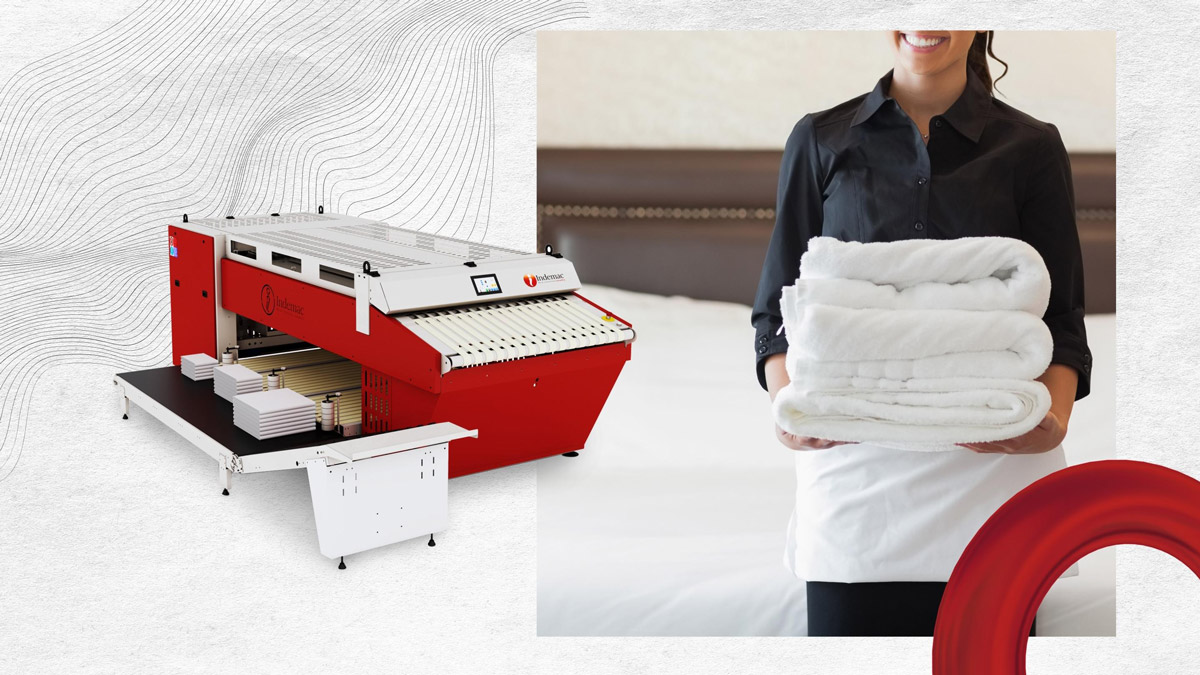 Customised solutions: why choose Indemac
Relying on Indemac means relying on builders with a passion: we design and manufacture high-quality machinery. But our task goes beyond selling, we offer ongoing assistance, training and comprehensive consulting to make sure we meet the real needs of the customer. Your hotel will have a laundry with personalised services.
Don't worry if your facility is in Italy or abroad, we can design and customise machinery remotely, ensuring fast delivery times.
Our machinery will adapt to your hotel and will be the result of our teamwork and the culture of Made in Italy.
Discover all our solutions and contact us for a personalised quote or advice.
We will be happy to be by your side!