The start of a new year always brings good intentions.
Do you have an industrial laundry and want to renew your working method? Have you noticed that the time has come to better respond to your customers' needs? Do you want to improve the service you offer or increase the range of proposals to keep up with the changes required by the market?
Indemac is the partner for you. With its years of experience behind it, Indemac today offers high-quality services in the field of machinery for industrial laundries: from conception, design and construction, to distribution and after-sales assistance always guided by flexibility and professionalism.
Indemac for large industrial laundries: a cutting-edge line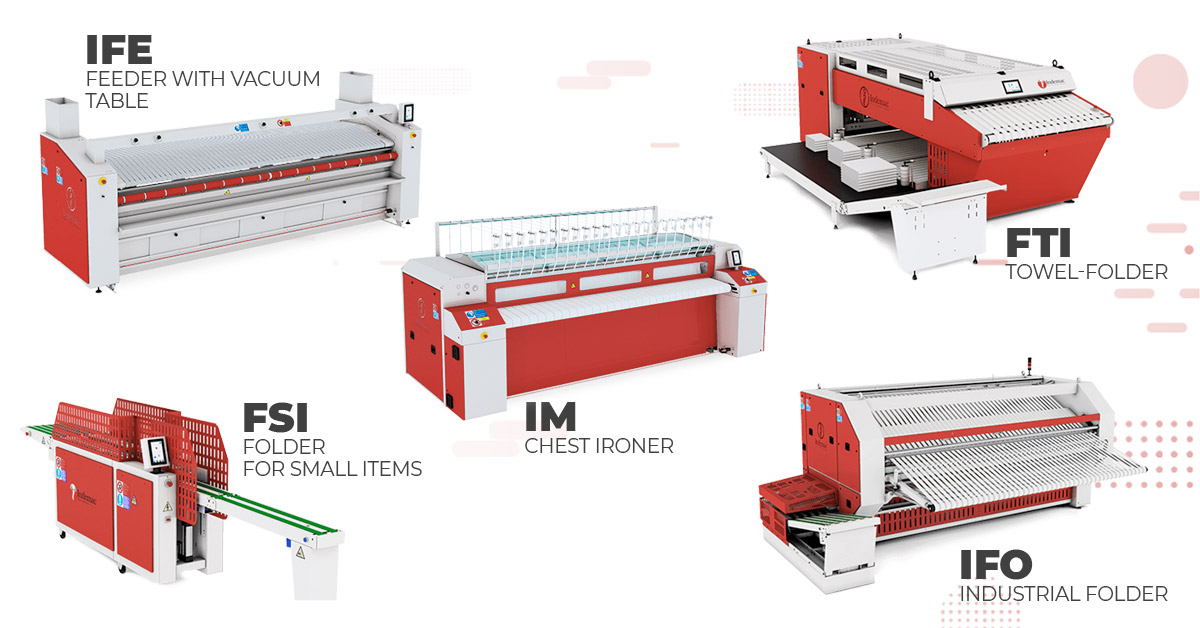 Indemac's Industrial Line meets all the needs of a medium-large industrial laundry which, in most cases, serves the catering and hotel industry sectors, to which are added the health and sports sectors.
The industrial one is a complete line of equipment that guarantees high-quality large-scale work: all the machines have customizable functions and provide innovative technologies to facilitate and speed up work, thus improving the quality of life for both workers and end customers. Yes, because Indemac products help you to do a better job, with an impeccable final result.
IFE, a feeder with vacuum table with easy introduction of linen; IFO, the industrial folder for medium and large items to be enriched with a series of optional accessories to customize the folding cycle; IM, the chest ironer created for large quantities of linen which, thanks to its technologies, is able to guarantee flexibility and productivity in ironing; FTI, towel-folder machine for terry items and FSI folder for small items.
All the machines in the industrial line are equipped with special technologies designed to give you maximum speed, precision and efficiency. For an impeccable result.
ILC, the compact Indemac product dedicated to medium-small industrial laundries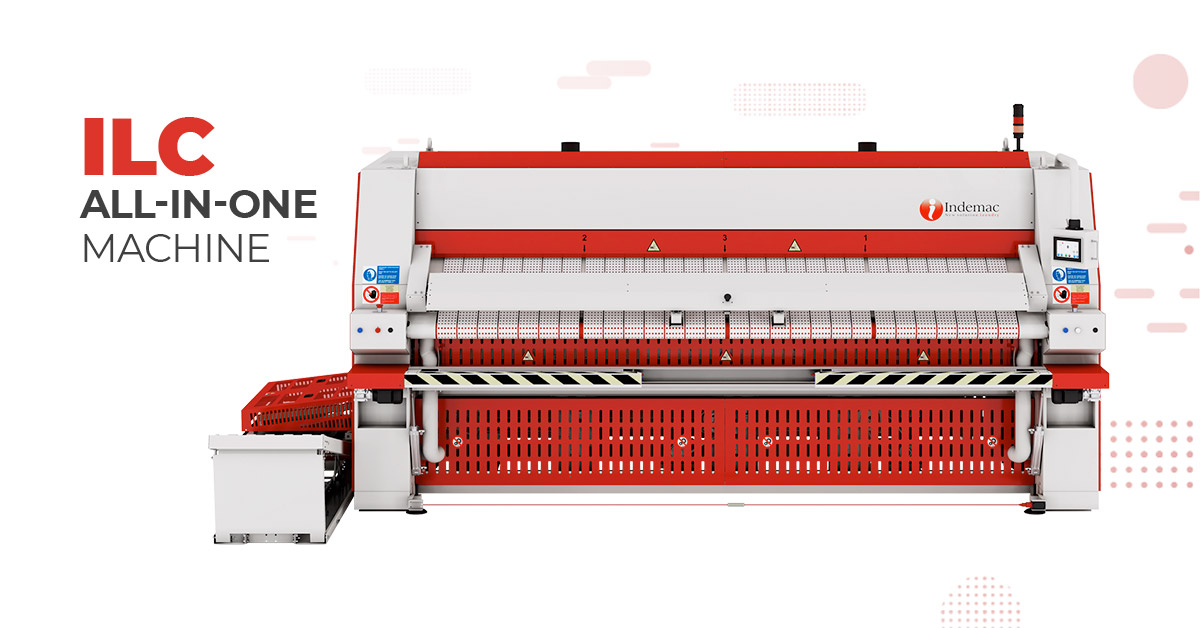 ILC is the machine for industrial laundries that Indemac dedicates to those who want unique performances in "all-in-one" mode. Born from a long process of technological research, ILC is innovative and rich in equipment: in 18 square meters and with the management of a single operator, it allows you to insert, iron, fold and stack even large-sized linen.
The ergonomic feeding table facilitates the insertion of the laundry linen, the automated functions increase productivity by speeding up many operations and the touch-screen panel is intuitive and easy to use. What more do you want?
Not only sale: Indemac is by your side, fold by fold
Super-technological products equipped with innovative systems that make your industrial laundry more flexible and efficient. However, Indemac does not stop at sales: we offer you continuous service, initial training and during use, complete advice to provide you with all the useful information to enhance your laundry and complete customization of services.
Have we convinced you? Contact us now, we will be happy to be by your side!